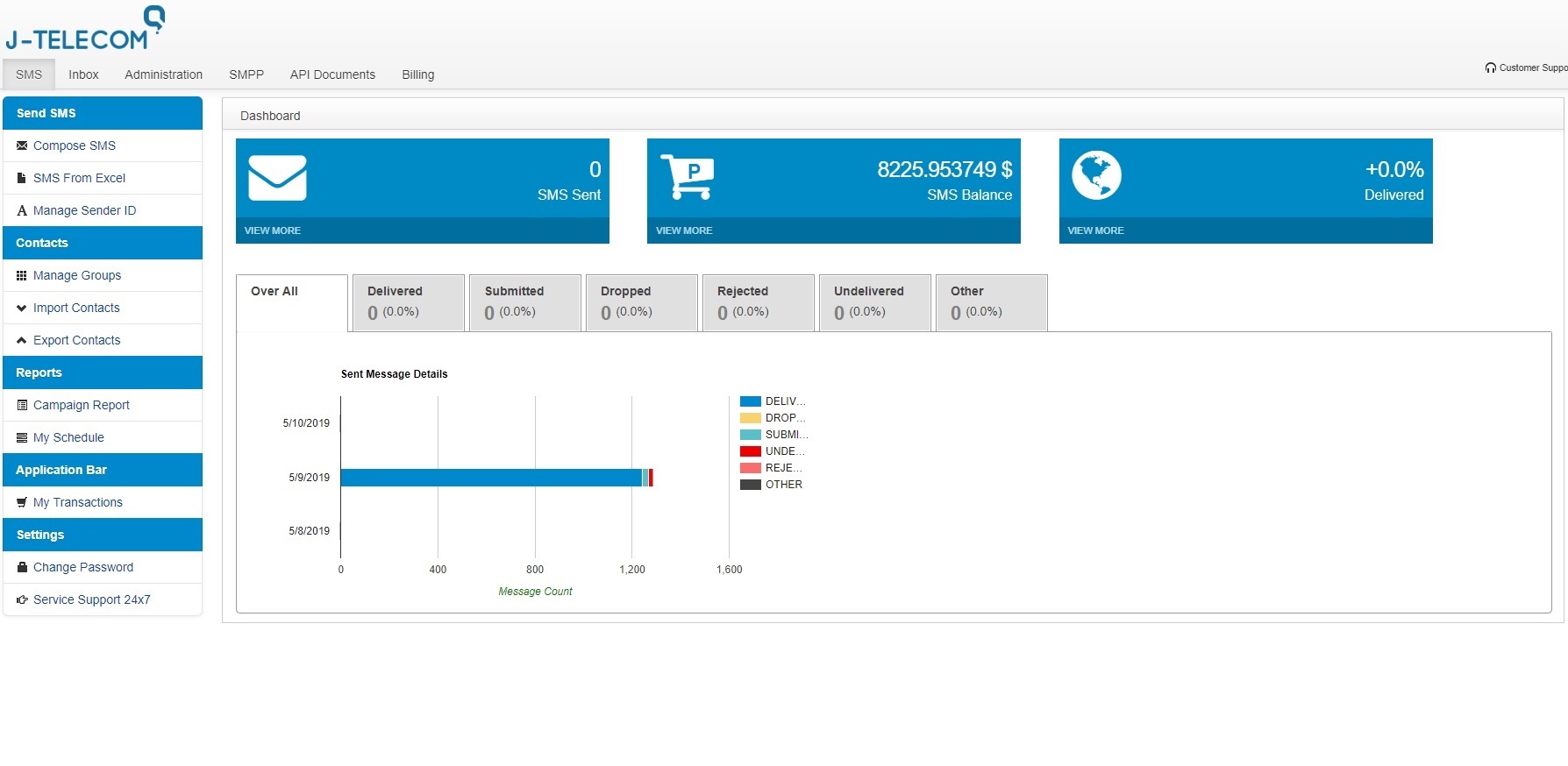 Instant Delivery - Fully White Label - Very Cheap Rates - Best Quality
Over the last years J-Telecom has developed and optimized its International Bulk SMS Hub and provides today one of the most robust messaging platforms on the market. The usage of our Bulk SMS Hub offers access to dedicated A2P, P2P and Bulk Messaging Services, enabling worldwide SMS transmission for small businesses to fortune 500 companies.
We operate our own proprietary SMSC offering unrivalled coverage to our customers. Our fully adaptive platform connects to multiple international carriers securing n+1 redundancy for every destination required. Our coverage ensures access to more than 1000 GSM, and CDMA networks in over 200 countries. We are supporting SMPP over IP, HTTP as well as 2-way SMS.

J-Telecom offers premium SMS hubbing services, with large international coverage, for both person-to-person (P2P) and application-to-person (A2P) messages.
Bulk SMS Customers will benefit from a very cheap and professional service. They can send mass Short Message Services (SMS) that can be used in order to market their products, advertise their companies/products, greet in holidays and all kinds of transactional SMS...
Users are able to choose whether to use their mobile numbers as the identified sender, or an alphanumerical ID for example: Personal Name, Company Name...

Not to forget that we do support all languages in our SMS System.
As for the rates, it is the most competitive price of all time!
Our Bulk SMS Hub is always available to use in order to send SMS to one person, or to a group of persons instantly and easily!
**Our Bulk SMS Hub includes the following cutting-edge features:
- Easy-to-use Web Interface in order to send your SMS.
-Mobile number portability (MNP) support.
-Message segmentation support (for SMSes longer than 160 characters).
-Per operator interoperability agreement control, throughput.
-Routing and charging transparency assurance.
-Quality of service, usage, and performance reports.
-Anti-fraud and anti-spam control features and reports.
-Optional SS7 interoperability support for non-GSM operators.
- Fully Branded Reseller Panel! (NEW)
- DELIVERY REPORTS of all SMS sent.
- Open Sender ID .
- Supports ALL languages.
- Desktop Application if you do not wish to use the website.
- Full report of your traffic and balance.
- Supports Groups.
- Can schedule sending SMS.
To access the Bulk SMS Interface please click here.

Feel free to contact us for more info.....

Some Accordions
Why Pick Us?

Our worldclass level of high quality and extensively discounted rates allowed us to lead in our area of expertise because we are dedicated to provide the best experience for our customers along with the best package of serivces. With J-Telecom, the customer's satisfaction is the only thing that matters!

Technical Support

Our support team and Network Operations Center are always ready to receive any request for support being fully dedicated to give our customers the best support at the shortest period of time.

Leading Excellence

J-Telecom's team performs daily Quality of Service (QoS) tests in order to make sure that all our services are at the highest possible quality without any disruption or degradation in quality. This is one of the main priorities of our team.